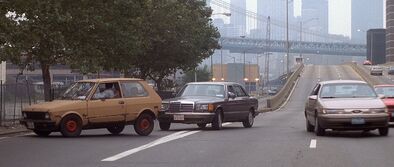 Franklin D. Roosevelt East River Drive (commonly referred to as the FDR Drive or simply, The Drive) is a 9.44-mile (15.19 km) freeway-standard parkway on the east side of the New York City borough of Manhattan. Simon Gruber and his men used the freeway to drive their dump trucks loaded with stolen gold bullions.
Simon and his men used the FDR to ride their dump trucks since the New York Police Department is busy searching for a bomb in a school. But detective John McClane and shopkeeper Zeus Carver discovered it and tried to search for them in the freeway. After searching in the Brooklyn Bridge, Zeus sees them in the FDR. They pursued them in the highway. But when a car almost accidently cuts them off, McClane calls the driver "Hillary Clinton", which allowed Zeus to figure 21 out of 42 is the name of who is the 21st U.S. President. McClane has Zeus changed cars to use someone's cell phone to call McClane's boss, Inspector Walter Cobb about the whole plot and to seal off the FDR around 70th Street and closed the bridges around the area. When Walter asked McClane about the bomb, he tries to tell his boss to find out who the 21st President was, but they lost signal before McClane can finish.
As Simon and his men we're driving in the FDR, Mathias Targo was driving one of the trucks when he, Simon and Katya find out that McClane probably killed Karl and the others back in the Federal Reserve Bank, prompting Simon to tell the two men, Mischa and Rolf, to stay in Yankee Stadium where they are and that McClane will still turn up. Simon calls the radio DJ that there is a bomb in a school somewhere in Manhattan, which causes public panic, forcing police dispatch center to be flooded with calls from frantic parents.
As McClane and Zeus find out that they lose pursuit of the dump trucks, Zeus finds a lone dump truck and McClane drives through the highway divider and left the FDR to pursue, which led them to truck driver Jerry Parks who was heading for New York City Water Tunnel No. 3, which is exactly where Simon and his men we're going.
In real life, not only are dump trucks prohibited on FDR as pointed out by Connie Kowalski in the film, but also they wouldn't be able to drive there due to low tunnel ceilings.
Community content is available under
CC-BY-SA
unless otherwise noted.