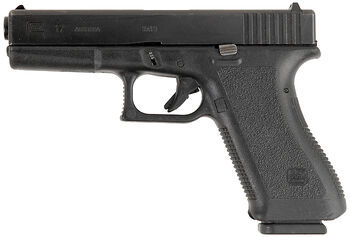 The
Glock 17
is the original
9×19mm Parabellum model
, with a standard magazine capacity of 17 rounds. It was designed and produced by Glock Ges.m.b.H., located in Deutsch-Wagram, Austria. Several modified versions of the Glock 17 have been introduced. The Glock 17 was the first Glock model and the flagship firearm for the company, although nowadays, there are many Glock pistols in different shapes and sizes and calibers.
The Glock 17 is a pistol that only appears in Die Hard 2 and Die Hard with a Vengeance.
Although the Glock 17 was used prominently in the film, it was said to be a fictional "Glock 7", a rare pistol. Rather than constructing custom guns to portray the fictional weapon, they used first-generation Glock 17s, but never called them the correct name, referring to them only as the Glock 7. The Glock was the main issue sidearm of all the mercenaries, alongside the MP5.
Baker used his pistol with a suppressor added with it and to kill the custodian of Hidey Lake Community Church. John McClane gets into an intense gunfight with two of the mercenaries in the luggage room, where he kills one and the other escapes. When he is speaking with the head of airport security, Carmine Lorenzo, he tries to convince him that the crooks were not just stealing luggage, but rather heavily funded mercenaries who kill for a living, using their gun as an example. He claims that the gun they used was the "Glock 7" a rare porcelain pistol made in Germany. He claims that the gun cannot be picked up on airport metal detectors and costs more than he makes in a month. It was later revealed that the criminals that used it were Colonel Stuart's mercenaries Miller and Oswald Cochrane.
An odd fallacy is that the "Glock 7" was written into the film as an experimental and costly porcelain-framed pistol from Germany that can't be seen on metal detectors, despite the fact that Glock pistols are mostly made of polymer plastics and steel, can be picked up very easily on metal detectors and are also made in Austria, not Germany.
The Transit Cop pulls a second generation Glock 17 on Zeus Carver after he jumps a subway gate in Wall Street Station and threatens a man using a payphone and not realizing that Zeus is helping NYPD officers to stop the bomb or many people would have been killed.
Community content is available under
CC-BY-SA
unless otherwise noted.