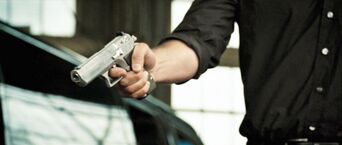 The
Jericho 941
is a double action/single action semi-automatic
9mm pistol
developed by Israel Weapon Industries and introduced to the market in 1990 as the Jericho 941 pistol.
Live Free or Die Hard
Edit
Terrorist mastermind Thomas Gabriel carried a stainless steel variant of the Jericho 941. He used it to shoot hacker Matt Farrell in the leg and hold Lucy McClane hostage with it. Later, Gabriel stood behind McClane and stuck the muzzle of the pistol into the gunshot wound of John McClane's shoulder and taunts him. McClane grabs the gun and forces Gabriel to pull the trigger, shooting through McClane's wounded shoulder and into Gabriel's chest, killing him.
Apperances
Edit
Community content is available under
CC-BY-SA
unless otherwise noted.