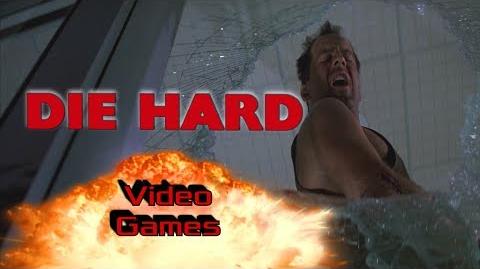 This is a list of Die Hard video games. The games have a wide range of genre, and some are directly based on the movies while others have further adventures of John McClane outside of the series.
Video Games
Edit
Die Hard (1990-92) - Nintendo Entertainment System, Commodore 64, MS-DOS. Hans Gruber and his men take over the Nakatomi building in LA during the Christmas party and take hostages. John McClane, an NYPD officer who is visiting his estranged wife Holly Gennero, evades capture and must fight the terrorists.
Die Hard 2: Die Harder (1992) - Commodore 64, PC, Atari ST, Amiga. Based on the movie of the same name, Die Hard 2: Die Harder pits action hero John McClane against an army of terrorists holding an airport hostage.
Die Hard Arcade (1996-97, 2006) - arcade, Sega Saturn, PlayStation 2. Terrorists take over a high rise building and take hostages, including the President's daughter, so it's up to one man to save the day.
Die Hard Trilogy (1996) - PlayStation, Sega Saturn, Microsoft Windows. Based upon the first three Die Hard films. See Die Hard, Die Hard 2: Die Harder and Die Hard with a Vengeance.
Die Hard Trilogy 2: Viva Las Vegas (2000) - PlayStation, Microsoft Windows. John McClane visits his friend Kenny Sinclair in Las Vegas to celebrate the latter's promotion to prison warden as the Mesa Grande Prison when a prison riot occurs. McClane then sets out for revenge when he learns that Kenny was in on the plan.
Die Hard: Nakatomi Plaza (2002) - Microsoft Windows. During the Christmas party at the Nakatomi tower in LA, a gang of heavily armed thugs, led by Hans Gruber, take hostages. NYPD police officer John McClane manages to escape from them and must find a way to stop them and protect his wife, who is one of the hostages.
Die Hard: Vendetta (2002-03) - Nintendo GameCube, PlayStation 2, Xbox. John McClane must come out of retirement when his daughter, rookie LAPD police officer Lucy McClane, is kidnapped by Piet Gruber, the son of Hans Gruber. McClane must battle armed criminals, take on hostage situations, and tackle an ex-Hollywood action star who is in league with Gruber, in hopes of rescuing his daughter.
Die Hard (2013) - Android, iOS. Play as Jack McClane, the son of New York City's most famous cop, legendary John McClane. Prove that the apple doesn't fall far from the tree – blast your way out of Moscow's mean streets and travel to the radioactive wasteland of Chernobyl, where you'll have to overcome incredible odds to save the world from nuclear terrorism.