The
Mossberg 500
is a series of shotguns manufactured by O.F. Mossberg & Sons. The 500 series comprises widely-varying models of hammerless, pump-action repeaters, all of which share the same basic receiver and action, but differ in bore size, barrel length, choke options, magazine capacity and "furniture" (the stock and forearm) materials.
The Mossberg 500 shotgun fitted with a heat shield was used by one of the Federal Reserve Bank guards when he tried to guard the vault room from Simon Gruber and his men.
When Simon Gruber and his men invaded the Federal Reserve Bank of New York, the guard fires his pistol to keep Simon and his men from going to the vault, warning them to step back (as Simon and his men expected). Then the guard started to load shotgun rounds in the Mossberg 500 fitted with a heat shield. After he loaded the shotgun rounds, the guard tried to call front desk. When he got through, he finds out in disbelief that the front desk was taking over by Simon's men. Then he made a futile stand firing the Mossberg 500 down the hallway to keep Simon and his men down before being stabbed to death by Katya with a long, curved knife.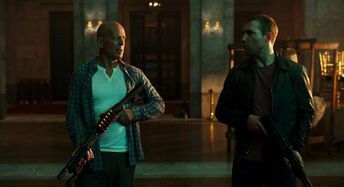 John McClane
 took a Mossberg 500 Tactical shotgun from the CIA safe house. The gun can easily be identified as a Mossberg 500 Tactical rather than a similar Remington 870 "police entry" because of its M4-type stock as well as its pistol grip, so it is easier to carry the gun and the strap for extra shells. Also, the pump and the extended barrel shroud prove that it is a Mossberg. The weapon light was added to the gun. McClane used the shotgun to fire at Alik's henchmen before being surrounded. McClane was forced to surrender the weapon and left it behind after they fled the hotel and slid down a construction tube to get away from a Hind gunship's machine cannons. McClane would use another shotgun later on in the film, however, a sawn-off double barreled shotgun, which McClane erroneously jokes looks like a pirate gun, despite the fact that a cop should know what a sawn-off shotgun looks like, as it is one of the most commonly used gang weapons in the world.
Community content is available under
CC-BY-SA
unless otherwise noted.