Below is the list of actors who portray the 33 or so hostages from Nakatomi Plaza in Die Hard.
Nakatomi Hostages
Edit
Kissing Man
Edit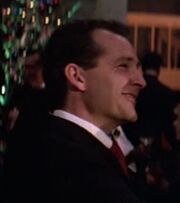 This man was seen briefly upon McClane's arrival at the Nakatomi Christmas party. He gleefully and possibly drunkenly tells McClane "Merry Christmas" and then pulls him in for a kiss on the cheek. McClane, somewhat shocked, pulls away following the kiss, grinning, stupefied. He then exclaims, "Jesus, fucking California."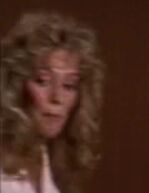 This woman was seen seeking a room to fool around in, with a man at the party. Initially they attempted to use Ellis's office, inadvertently barging in on Holly and John. Later they were interrupted by Hans Gruber's crew, having found another office to use elsewhere on the floor.
Aside from the centerfold McClane sees at the top floor of the building, her open blouse accounts for the only nudity in the film.
This man was seen seeking a room to fool around in, with the aforementioned woman at the party. After attempting to utilize Ellis's office, they ended up in a different room before being unpleasantly disturbed by the terrorists.
Nakatomi Hostage 1
Edit
This hostage was seen chatting with Joe Takagi during the Christmas party. While the two are talking, Takagi and McClane notice each other and she walks away as John approaches him. She is also in Holly's background in the scene where Hans pieces together that John is Holly's husband.
Nakatomi Hostage 2
Edit
Nakatomi Hostage 3
Edit
This hostage was seen in atrium as John McClane was first arriving to the party and was featured prominantly in many of the rooftop scenes, involving the entire hostage group. She was wearing a red blouse with a black suit coat.
Nakatomi Hostage 4
Edit
This hostage was seen briefly in both the atrium scenes and on the rooftop scenes.
Nakatomi Hostage 5
Edit
Nakatomi Hostage 6
Edit
Another blonde female amongst the group, this hostage was seen sparingly throughout the film.
Nakatomi Hostage 7
Edit
Unidentified Hostages
Edit
Community content is available under
CC-BY-SA
unless otherwise noted.