Piet Gruber
Biographical information
Gender

Male

Eye color

Brown

Hair color

Brown

Family

Hans Gruber (father)
Simon Gruber (uncle)

Affiliation

Independent

Behind the scenes
First appearance
Last appearance

Die Hard: Vendetta

Cause

Shot by Lucy McClane

Portrayer

Richard Green
Piet Gruber was the son of Hans Gruber and the nephew of Simon Gruber. Never appearing in a film, Piet is the main antagonist of the 2002 video game Die Hard: Vendetta. During the game, he is responsible for an enormous art heist and kidnaps Lucy McClane as revenge for his father and uncle's deaths.
He is considered non-canon within the Die Hard series overall.
Gruber returned to LA, the city of his father's doom, to return a stolen work of art he recovered from South America. However, during the presentation, a gang of men took over the Townsend Art Museum. John McClane jumped into action to rescue the hostages.
Gruber sent his men to take over the LAPD police station in Century City on a mission to murder Christophe Von Laben. While McClane took them out, his daughter Lucy McClane was kidnapped by Gruber. McClane eventually followed a trail to the Cesar Tuna Factory, where he learned that Gruber had obtained a rocket from a Japanese gangster name Sumi Kazawa.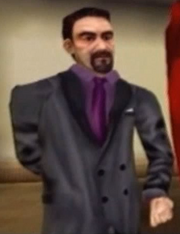 Gruber planned to launch the missile from the Fernandez Warehouse but the attack was prevented by McClane. Gruber then took Lucy to Nakatomi Plaza, the same place where his own father, Hans Gruber, had fallen to his death years before. McClane confronted Gruber and his partner Jack Frontier on the roof of the building as their escape chopper hovered over them. Gruber revealed that it was never about revenge since his father rarely spoke to him in his entire childhood and that McClane did him a favor by killing Hans. Then he planned to use McClane to pull off a heist in exchange for Lucy's life, but when the honest man refused, Gruber attempted to shoot him. McClane was forced to shoot him, but Gruber was relentless and made a second attempt on McClane's life. However, just at that moment, Lucy appeared and shot Gruber to death while Frontier fled the scene.
Community content is available under
CC-BY-SA
unless otherwise noted.