Taylor is one of the FBI agents that works with FBI Cyber-Security Division.
When the computer branch occurred in the FBI headquarters, Taylor informs her boss Miguel Bowman about hackers likely committed the branch.
When several transportation systems we're shutting down, Taylor finds out the FAA's entire network. Then the anthrax alarms sounded in the FBI HQ, along with many other government buildings. Bowman has everyone out of the building and insisted Taylor to leave as well.
She works at the mobile command center outside the FBI HQ. When NYPD detective John McClane arrives with hacker Matt Farrell, Taylor was present when the hacker's message by presidential speeches that they are shutting all transportation, financial and utilities systems. When Farrell realizes that the cyber-terrorists are conducting a Fire Sale, Taylor says that it's a myth and it can't be done.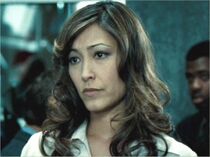 Taylor was present when NSA agent Jack Parry and DHS liaison Chuck Summer arrived in the mobile command center. Then when the another broadcast message came, the footage shown the US Capitol exploded, which horrifies Taylor and at everyone else in the command center. Then she finds out the explosion was a fake.
Later, Taylor was present when Molina informs Bowman about the recent intelligence that the terrorists are mobile and that they are most likely using a semi-trailer rig. She was also present when they see the power outrage spreading at the Eastern Seaboard.