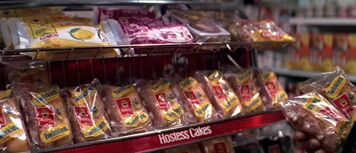 Twinkies are American snack cakes, marketed as "Golden Sponge Cakes with a Creamy Filling".
The character Al Powell has a comedic obsession with Twinkies (even to the point of memorizing their ingredients; claiming that they are "just about everything a growing boy needs") and they are seen in the first two films.
Description
Edit
It was formerly made and distributed by Hostess Brands and is again being sold under the Hostess Brands name. The brand is currently owned by private equity firms Apollo Global Management and Metropoulos & Co. Twinkie production in the United States resumed after an absence on American store shelves, becoming available again nationwide on July 15, 2013. Twinkies are produced in Canada by Saputo Incorporated's Vachon Inc. (at a bakery in Montreal) which owns the Canadian rights for the product and were still available during the absence in the US market. Twinkies are also available in Mexican stores, made by Marinela, a subsidiary of Mexican bread company Grupo Bimbo.
On May 4, 2012, parent company Hostess filed for Chapter 11 bankruptcy protection. Twinkies were not produced for almost a year but on March 12, 2013, it was reported that Twinkies would return to store shelves in May of that year.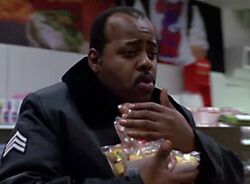 The Twinkie is first seen when LAPD Sergeant Al Powell is buying packages of them at a gas station. It is later revealed they are his favorite snack after revealing the ingredients to NYPD cop John McClane. McClane, too, also has a taste of one Twinkie in Nakatomi Plaza while taking a brief break battling the terrorists.
In Die Hard 2, Powell is once again eating Twinkies while McClane is faxing information to him from Dulles International Airport. McClane jokingly states to Powell to 'get that Twinkie out of your mouth' while talking to him on the phone.
Community content is available under
CC-BY-SA
unless otherwise noted.