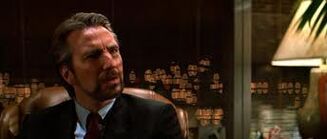 About Me
I am from South Dakota that loves to share my knowledge with the world by editing Wikipedia and more recently, Wikia pages. Because the Die Hard series is one of my favorite franchises, if you have any questions for me, don't hesitate to ask!
My favorite character is, of course, the marvelous performance by Alan Rickman, terrorst mastermind Hans Gruber! A wonderful performance that just gets more interesting every time you see it. The guy really has complex motivations and he is more dangerous than most people let on.
If you need any help with anything, feel free to contact myself or the primary admin of this wiki, BattleshipMan. We will be happy to assist you.
Favorite Quotes
"Only John can drive a man that crazy" -Holly Gennero
"God. That man looks *really* pissed." -Ginny
"You know my name but who are you? Just another American who saw too many movies as a child? Another orphan of a bankrupt culture who thinks he's John Wayne? Rambo? Marshal Dillon?" -Hans Gruber
"I wanted this to be professional, efficient, adult, cooperative. Not a lot to ask. Alas, your Mr. Takagi did not see it that way... so he won't be joining us for the rest of his life. We can go any way you want it. You can walk out of here or be carried out. But have no illusions. We are in charge. So, decide now, each of you. And please remember: we have left nothing to chance." -Hans Gruber
My favorite pages
John McClane on Die Hard
On-Screen Kills by John McClane
Zeus Carver
Dwayne T. Robinson
In-depth plot summary of Die Hard with a Vengeance
Hans Gruber
Future Work on this Wiki
Need work:
Need creating
Agent Laughlin

Northeast Pilot

Windsor 114 Pilot

Information Officer

Dulles Luggage Worker

Tazer Lady

Detective Wiseman

Teddy Bear

Red Castle

Manzanar Internment Camp

Mary's Cameraman

Theo's tool

Wolfgang

Cargo Ship

M8 Greyhound armored car

Joe Leland

Pulitzer Prize

20th Century Fox mural

Zeus
My favorite wikis
Wiki Projects