Way to go, Wikia community! John McClane would be proud. We issued the challenge of creating the "Ultimate Die Hard Movie," and you heard the call. We received over 60 crazy, action-packed submissions, narrowed the field down to five finalists, and you voted for your favorite.
59 of you voted, and we're happy to announce that Darth Arthyl won the competition with 21 votes for his Ultimate Die Hard Movie, "A Strange Way to Die Hard." Matt200's video game themed "Die Hard and Respawn" came in second place with 14 votes, while cefoster3's "Die Hard or Prosper" came in third place with 11 votes.
DarthArthyl wins the Die Hard: 25th Anniversary Blu-ray Collection and we'll also be presenting a custom digital poster for the winner in an upcoming blog post. For now, check out the winning Ultimate Die Hard Movie: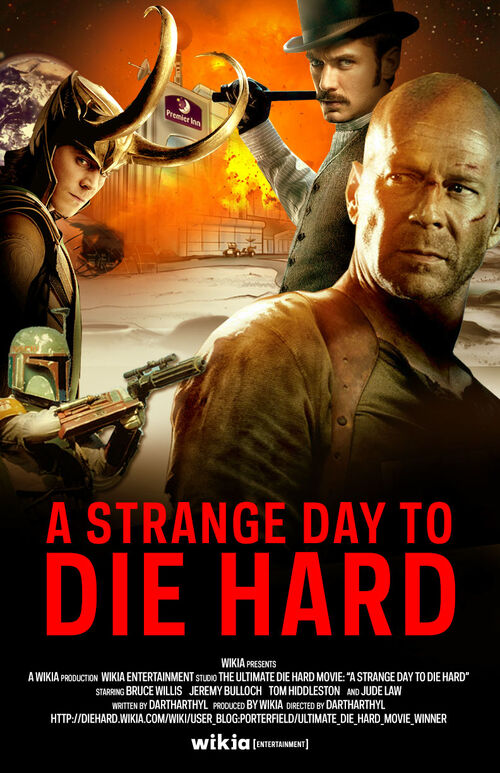 John McClane is taking a visit to the moon in order to see the new space hotel. While there, Loki opens a portal and he plans to kill everyone in the hotel unless earth's greatest hero joins him. McClane refuses and begins a race against the clock to stop Loki and Boba Fett from killing everyone, and the worst part is, nobody knows how they're gonna do it. With the help of Dr. John Watson's medical and detective skills, McClane will need all his wits, skills, and badassery to save the day. In the end McClane manages to find the source of this strange adventure. Loki has created an anomaly allowing him, Fett, and Watson to exist here, with a well tossed grenade just as all oxygen is running out, the anomaly closes, and McClane goes to the lobby, gets his room key and goes to bed.