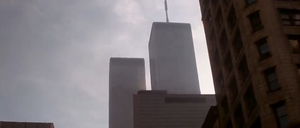 The World Trade Center was a complex of buildings in New York City, located in Lower Manhattan and close by Wall Street.
Description
Edit
The "Center", completed in 1973, was notable for having two tall 110 story buildings known as the Twin Towers. "Tower One" had a restaurant called Windows on the World, and featured a tall, white, antenna (that lit up at night) on the roof. "Tower Two" had two observation decks for tourism: one on the 107th floor overlooking Midtown Manhattan, and another on the roof for an extended view of the city. The complex also had five other buildings, including a 22 story hotel (called the Marriott World Trade Center), three 9 story office buildings, and one 47 story granite made office building across the street from the Center.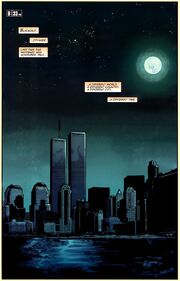 The Twin Towers are shown in a few scenes in the film. While Zeus Carver is driving the taxi to Wall Street Station, he looks up at the Twin Towers for a moment before he nearly crashes into a truck. When the NYPD police cars leave Wall Street, they can be seen behind Simon Gruber when he says "You may begin." They are shown one last time when Zeus and John McClane run to Tompkins Square Park to disarm a bomb. The Twin Towers also appear in some posters promoting the film.
The Twin Towers also appear throughout the comic series Die Hard: Year One. During the 1977 blackout in New York City, they can be seen in the night sky even with the power out.
External Links
Edit
Community content is available under
CC-BY-SA
unless otherwise noted.